May Information Exchange: Dementia
Join Healthwatch Hackney to learn more about dementia and the support available in Hackney. Our guest speaker is Dr Emma Teper, Consultant Old Age Psychiatrist. We will meet on Zoom on 18 May 2022 from 4 to 5pm. You can also participate using your landline, if you do not have a computer. For more information, email Kanariya or call us free on 0808 1647664. >> Read more
Safer London Parent and Carer's Event
Safer London is hosting a free virtual event for parents and Carers this Wednesday 27th April, about working in partnership to respond to harm outside the home. For more information and to book, the Eventbrite link is:
https://www.eventbrite.co.uk/e/working-in-partnership-to-respond-to-risk-outside-the-home-registration-304638711587
The event will repeat twice on the same day at different times and will be recorded so if anyone signs up but can't join on the day they will be sent a recording.
Suicide Prevention Advice
'Hand Signal for Help' and 'Ask for Angela'
Hand Signal for Help:
The Signal for Help (or the Violence at Home Signal for Help) is a single-handed gesture that can be used over a video call or in person by an individual to alert others that they feel threatened and need help. Originally, the signal was created as a tool to combat the rise in domestic violence cases around the world linked to self-isolation measures that were related to the COVID-19 pandemic. The signal is performed by holding one hand up with the thumb tucked into the palm, then folding the four other fingers down, symbolically trapping the thumb by the rest of the fingers. It was designed intentionally as a single continuous hand movement, rather than a sign held in one position, so it could be made easily visible.
Hand Signal for Help:
The safety initiative 'Ask for Angela' is being rolled out to bars, clubs and other licensed businesses across London. People who feel unsafe, vulnerable or threatened can discreetly seek help by approaching venue staff and asking them for 'Angela'. This code-phrase will indicate to staff that they require help with their situation and a trained member of staff will then look to support and assist them. This might be through reuniting them with a friend, seeing them to a taxi, or by calling venue security and/or the police.
Venues that support 'Ask for Angela' have been given Welfare And Vulnerability Engagement (WAVE) training. Delivered by the Met's licensing officers and Safer Sounds, it gives staff the ability to help customers who may be in a situation that makes them vulnerable or unsafe.
'Ask for Angela' was originally developed by Lincolnshire County Council and adopted by the Met in 2016 as a localised initiative by its police licensing officers. The introduction of WAVE training in 2017 underpinned the delivery of Ask for Angela and more venues began to take on the initiative.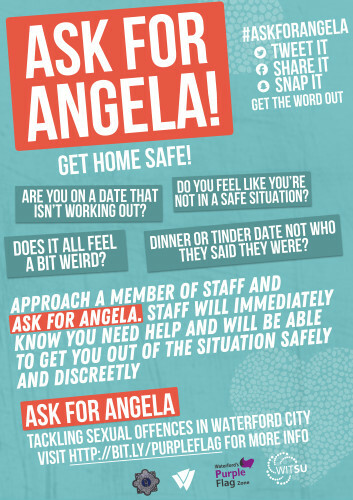 Choice Health Advocacy
Women's Reproductive Health Survey
In addition, assets promoting the survey in a range of languages (listed below) are available to access here: https://drive.google.com/drive/folders/1h0fUprgCwRaYitylsX-9DEMjw6E7coUB?usp=sharing
Spanish
Bengali
Arabic
Farsi
Turkish
Amharic
Polish
Yiddish
Vietnamese
City and Hackney Recovery College

For the latest information and listings, please access the link to the Spring Newsletter HERE
A Carers Guide to Home Fire Safety
Learn how to keep people that receive care safe from fire, Please access the link HERE
FREE Counselling for City Carers